The Edel Rhapsody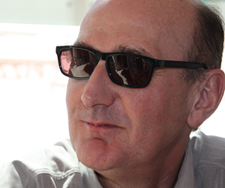 It was 1993 in Carlisle city Cathedral in the North of England: composer Stephen Caudel (left) was present at the World Premiere of his "The Edel Rhapsody". This is believed to be the first time that a work for Solo Bb Tenor Wagner Tuba and Orchestra had ever been performed in the UK or indeed anywhere in the world.
Stop Press 2015 ....
This year, Caudel revised the score of the Edel Rhapsody.
Click here to read more and hear a new recording of the work.

Here are the composer's notes from the Premiere:
"It is not every day that a composer has the opportunity to create a 'world first' and for me this was a challenge I could not refuse.

The Wagner Tuba was developed by Adolphe Sax and first exhibited at the Paris Exhibition of 1851 but, since that time, has mainly been used only in sections of four in large orchestral works, notably those of Richard Wagner.

When I first heard the instrument at close quarters I was immediately struck by the richness and fullness of its tone and to me this suggested a work in which the Wagner Tuba would be featured in a lyrical and romantic vein.

The Edel Rhapsody, therefore, along with most of my musical output, represents a return to the 'late romantic' ideals of melodic and emotional intensity, values coincidentally championed by Richard Wagner who first made good use of this wonderful instrument. - Stephen Caudel May 1993"

To contact Stephen Caudel or for more information regarding The Edel Rhapsody send an email to: admin@stephencaudel.com.
The Wagner Tuba
The Wagner Tuba (right) is probably one of the least known orchestral instruments in the modern orchestra. Its name is colourful yet ambiguous and causes confusion as to its true identity. The history of the Wagner Tuba is relatively short yet the background to its creation amongst the most notable ever.
The leading resource for this fascinating and lyrical instrument is here:
Another useful resource : Orchestral Film Music